Elegy (This is my house...), 2004
12-5/8x14-1/2 inches
Elegy (Let me live in a house...), 2004
19x8-1/2 inches
Elegy (...and glad to be home...), 2004
21-9/16x17-11/16 inches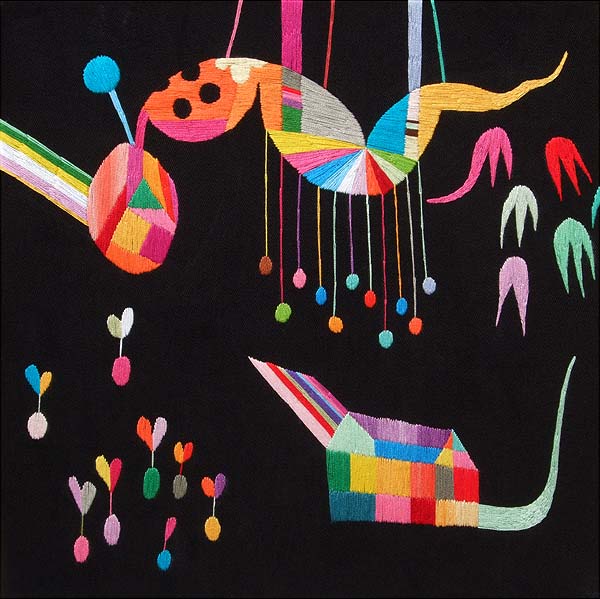 Embroidery floss and fabric (hand embroidered)
cm x cm
2009
Takashi Iwasaki
Minotogetenti

Embroidery floss and fabric (hand embroidered)
35.5cm x 35.5cm
2009
Takashi Iwasaki
Prismahamon

Embroidery floss and fabric (hand embroidered)
35.5cm x 35.5cm
2008
Takashi Iwasaki
I'm a bit in love with embroidery at the moment. Iv'e been spending my evenings learning the finer points of this very gentile art and during my webly wanderings came across the gut wrenchingly good works of these two artists,
Takashi Iwasaki
and
Stephen Sollins
.
Heralding from the United States, both artists are currently working this traditional folk art in very different ways. Takashi's embroidery is indicitive of his illustrative style and his approach to fabric with needle and thread is much the same as his works on paper or canvas, full of joy and life!
Stephens work is much more conceptual and
examines the disparity between "high" and "low " art by systematically abstracting/deconstructing traditional folk art embroideries and reconstructing them with the same number of stitches and using the same coloured thread, beautiful and a little confronting.