Fridays are wishful thinking day's. Day's reserved for flicking through magazines, big cup's of tea and day dreaming about dream homes and what I would do if I won the lottery.
So in honour of the impossible, the un-likely and the imagined, I present to you a pictorial list of things I own in my imagination
Oiva Tableware (meaning 'in good company) by Sami Ruotsalainen for
Marimekko
The Shaman's Tepee Limited edition silk screen print by
Sanna Annukka
Fun dressing table by
RETROMODERN
Furniture (at $650, I think this one has totally got a chance of becoming a reality, one day)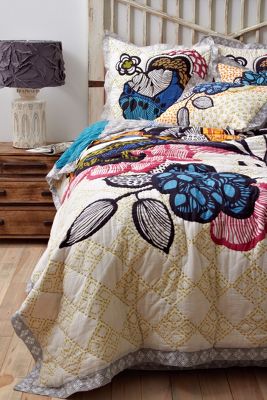 Laelia quilt, by
Anthropologie
(it just looks so rich and textural)
Well that's it for today, my imaginary credit card has been maxed out (is that even possible)? and I need to bugger off and do the grocery shopping. Have a wonderful weekend and I'll be back on Monday hopefully with some good market finds.
xxx